Last Updated: 22 December 2022
The name of the font that is closest to the letting seen on the official Captain Morgan bottle is a typeface by the name of Thaleia Regular. It was created by the design team at Harold's Fonts, and was first released in 2016. There are x2 font styles in total that form the complete Thaleia font family, these are: Regular and Lights.
The Regular version is presented in a Art Nouveau style, with curvy font characters that are true to the original Captain Morgan font style. All upper, lower, and numeric characters are included by default in the character map.
Presented below is a preview image of font glyphs that are included as part of this typeface: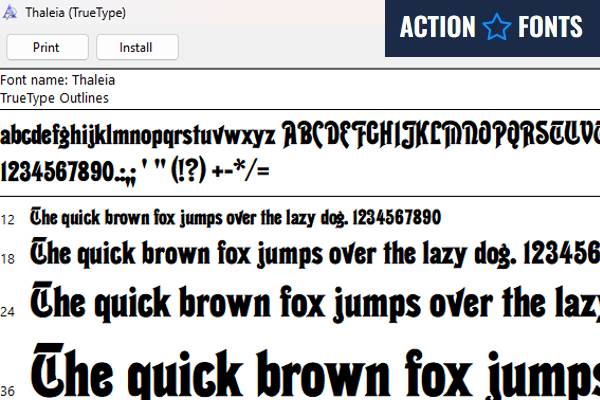 An important note to consider is that it comes packaged in a True Type Font (TTF) format. The font file is fully compatible with all Mac and PC computer systems. You can click on the download link below to get your free copy now.
About the Captain Morgan brand
Captain Morgan is a popular brand of rum that was created in the early 20th century by Seagram's, a large alcohol company. The brand is named after the 17th-century Welsh privateer, Captain Henry Morgan, who was known for his love of rum. The drink is made from molasses, which is a byproduct of sugar production, and is aged in oak barrels to give it a smooth, rich flavor. Captain Morgan is best known for its Original Spiced Rum, which is a blend of spices, including vanilla and cinnamon, that gives it a unique and distinctive taste. The brand also offers a variety of flavored rums, including Captain Morgan Coconut Rum and Captain Morgan Pineapple Rum.
Captain Morgan logo and typography used
The current logo is a stylized version of the face of Captain Henry Morgan. The logo features a depiction of the captain's face in profile, with his iconic mustache and beard. The captain's face is surrounded by a large, bold red circle, which contains the brand's name, "Captain Morgan," in white letters. The logo is intended to evoke the spirit of adventure and boldness that is associated with Captain Henry Morgan. The logo is often used in conjunction with the brand's tagline, "Live Like the Captain." Overall, the logo and lettering is simple, yet eye-catching and memorable, and is widely recognized by consumers around the world.
Captain Morgan font Generator Tool
Use our free Captain Morgan font generator tool below to create your own custom design logo or image. Enter your text, select a font, choose a font size, and pick your favorite colors. Hit the Generate button and your logo/image is created and ready to download.
---
Categories: Drink Fonts , Famous Fonts