The name of the font that most closely resembles the one used in the Gibson Guitar logo is a typeface by the name of Gitdiddler NF. This retro style font was designed and created by the team at Nicks Fonts.
It is an almost exact replica of the original Gibson Guitar Corporation font and presents with a wonderful old school 1950's look and feel to it. It incorporates the classic italicised angles of the original, and also comes with a full set of uppercase and lowercase characters. This font can also be used to easily design and create your own Gibson headstock logo. You can view and download a copy of this Gibson Guitar logo font by clicking on the green download button below: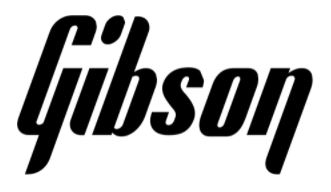 Another commercial font option is Gibson Style Headstock Font created by the team over at Sigil Pickups out of Canada. It currently costs $30 and is available on a Personal Use Only license.
If you are a fan of the Gibson guitar brand, that you are also going to love the Gtartlings dingbat font. This installable typeface is in TTF font format, meaning that it is quickly and easily installable on all PC and Mac computers. The font includes over x50 different guitar related images – including Gibson.

This is a free font and is can be downloaded via the following link below.
About Gibson Guitars
Gibson Guitar is a household name in manufacturing high-quality guitars and other musical instruments. The company was founded by Orville Gibson in Michigan USA in the year 1902. Before Gibson Guitars, he started making instruments as early as 1894. His earliest production is believed to be a 10-string mandolin guitar. The company's current base of operation is in Nashville, Tennessee. But before that, they were originally located in Kalamazoo, Michigan. Some of the most popular guitar styles that they have produced include: Explorer and Flying V, Byrdland, and Les Paul. Besides musical instruments, they also offer home studio essentials and brand accessories like t-shirts, caps, etc. In 2013, the company changed their name from Gibson Guitar Corporation to Gibson Brands.
Gibson Guitar font generator
You can test-drive the Gstartings dingbat font mentioned above, via our Gibson Guitar font generator tool. It's very simple and intuitive to use - enter some text, enter your desired size and colors, and then click on the Generate button ... and VOILA ... you have an image ready to download and use.
---
Categories: Uncategorised