Last Updated: 10 November 2022
The font that is used in the Jagermeister logo is a custom typeface created by the company itself. The closest free Jagermeister font option is a typeface by the name of Potsdam which was created by Manfred Klein, a prolific font designer from Germany.
The Potsdam font comes with a full set of upper and lower case characters, as well as numbers 0-9. The font preview image below will give you an indication of what the Potsdam font will look like when installed on your computer system.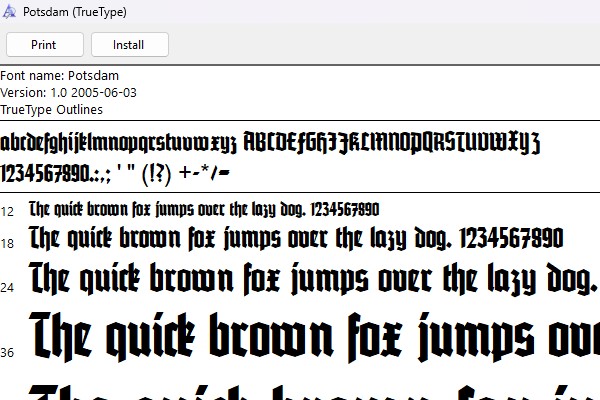 Alternatively, if you just want to grab the font, you can get started right away by clicking on the green download button that you see conveniently located at the bottom of this page.
Another free font option that looks very similar to the original Jagermeister text, is a typeface by the name of Koch Fette Deutsche Schrift. This is also a Germanic type font that resembles closely the original logo design. It was created by Peter Wiegel. Take a look at it's font preview below:
Have you got a party coming up where Jagermeister is going to feature on the menu. Or perhaps you just love the typeface and want to create your own Jagermeister inspired design. Potsdam is completely free to use for personal use, so get started designing today.
Alternatively, you can download both of these cool fonts together as a single package by click on the following link below:
About the Jagermeister brand
Jagermeister is a popular spirit brand that traces its roots to Germany. Created by Wilhelm and Curt Mast in 1934, the formula of 56 herbs and spices was intended to aid digestion. Successful marketing has catapulted Jagermeister's reputation from workman's after-dinner remedy to a college party staple. The brand's rockstar status is further cemented by its sponsorship of pro racing teams and a string of major rock and metal music events and festivals around the world. The original Jagermeister recipe and the signature green bottle remain unchanged to this day.
Jagermeister font Generator Tool
Jagermeister is arguably the most well-known German spirit and drinks brand in the world. Many people love including it in various designs and graphics for their own personal use. You can try out both of these fonts mentioned above without having to install them on your PC/Mac by using our handy Jagermeister font generator application below. Enter your details, hit the Generate button, download you image. It doesn't get much easier than that. Enjoy :)
---
Categories: Drink Fonts , Famous Fonts