Last Updated: 10 November 2022
The font that is used in the Persona 5 role-playing video game is a typeface by the name of P5 Hatty. This ttf font was created by a font designer who goes by the name of Hatty Mikune. He is well known in the P5 gaming circles and is particularly active on gaming forums and Reddit threads relating to the game. P5 Hatty is the only know Personal 5 font that is close to the original used in the game, and is therefore well respected within the gaming community.
One of the best things about this font is that it comes with license that is labelled as Free For Personal Use. This means that you can freely use it to create any gaming image or design that you want. To get started, simply click on the green download button below. Note: the download zip file contains all x3 fonts: P5 Hatty, Menu Font Prototype, and Expose in TTF file format (fully compatible and installable on Windows and Mac computers).
More recently another Persona 5 font has been developed by a gamer within the P5 community. It's called the Personal 5 Menu Font Prototype, and it first appeared on Reddit in 2021 when it was uploaded by the user known as KanjiPlaysInc, so is a quite recent design.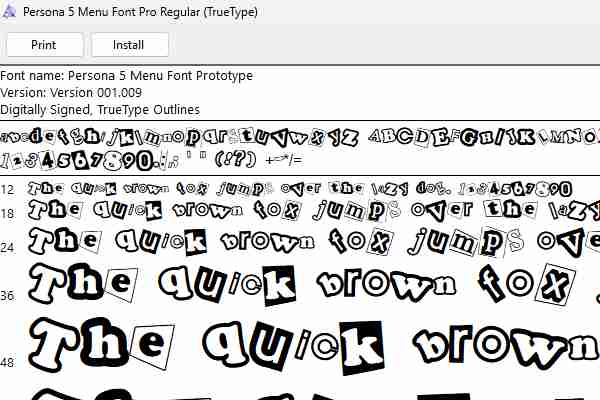 Another option that you can consider is the excellent Exposé font which was created by James Lewis. This font is really good to use if you want to imitate a ransom-note type text. This font is free to use for both personal and commercial use, so you're good to go to use it on just about any design project that you can think of.
Persona 5 font Generator Tool
Create your own Persona 5 logo image using our free tool below:
---
Categories: Famous Fonts , Featured , Gaming Fonts