Last Updated: 04 November 2022
The font used in the Avatar The Last Airbender logo is Herculanum. This font was designed by Adrian Frutiger in 1990, and was published by Linotype. There are 6 different typeface styles in total included in the complete font pack including:
Herculanum Pro Roman
Herculanum Pro Bold
Herculanum Pro Outline
Herculanum Std Roman
Herculanum Bold
Herculanum Outline
Note: The word "Avatar" in the official Avatar logo is not a font, but instead it is in fact a hand drawn logo (as can be seen by the x2 different variations on the letter A in the logo).
Below is a preview image of the Herculanum font to give you an indication of what the character glyphs will look like when installed on your computer system.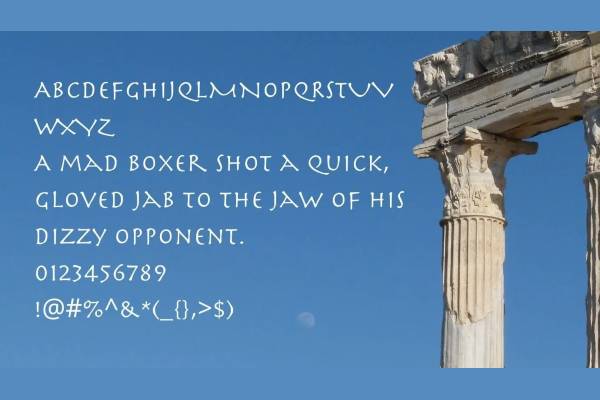 You can grab yourself a copy of this ATLA font by clicking on the download link below. Please note that this font comes with a Personal Use Only license, and as such can not be used for any commercial purposes. If you're only looking to use it in your own personal project, then you are good to go!
About the ATLA Font
Avatar: The Last Airbender is a show that has been praised for successfully fusing American cartoons with Japanese anime, mixing the art and themes of these different styles together to tell the story of its plucky protagonist Aang. The TV show enjoyed high ratings throughout its run from 2005 to 2008 on American kid's channel Nickelodeon, winning five Annie awards and also the prestigious Primetime Emmy award. The franchise has since expanded to include a comic book series, a live-action film, and a direct sequel called The Legend of Korra. The logo itself ties in very well with the overall them of the tv show. The font that's used in the logo combines swishes and Asian accents which complement each other perfectly.
Avatar The Last Airbender font Generator Tool
For all non-commercial applications you can use our free Avatar The Last Airbender font generator tool below. It uses the Herculanum TTF typeface discussed above to generate an Avatar inspired image that you can use in any of your personal web design or school projects. To get started, what you need to do is enter some text, select some colors, and then press the Generate button. Then right-click on the image that is created to download it. Now how easy was that!? Enjoy.
---
---
Avatar The Last Airbender font In Use
Listed below are a few examples of the Avatar The Last Airbender font in use demonstrating different lettering, logo color and style variations:
---
Categories: Famous Fonts , Featured , TV Show Fonts