The font that is used in the Breaking Bad logo is Heart Breaking Bad by Chequered Ink.
One of the best things about this font is that it's usage license is classified as 100% Free, which ultimately means that is free to use for both personal and commercial purposes. To view more details about this font, head over to this page on our website where you can view the full character map, as well as additional details. To grab your very own free copy of the Breaking Bad font right now, click on the green Download button below.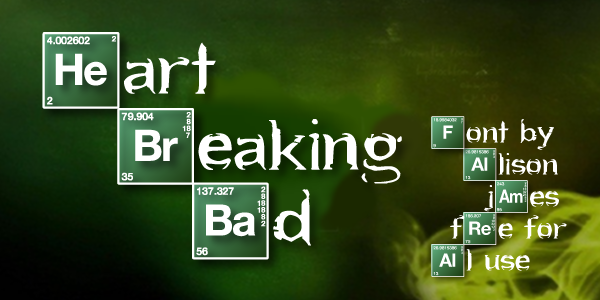 About Breaking Bad
Nothing shows a neo-western crime drama better than Breaking Bad, a 5 season, 62 episode American series. The series follows the life of Walter White, a high school chemistry teacher that turns to a life of crime and tells of his struggle to establish a secure future for his family. The series gained immediate popularity after it was released and won two Peabody Awards and 16 Primetime Emmy Awards. It also inspired a sequel film that was released in 2019.
Breaking Bad font Generator Tool
Use our free Breaking Bad font generator tool below to create your own custom design logo or image. Enter your text, select a font, choose a font size, and pick your favorite colors. Hit the Generate button and your logo/image is created and ready to download.
---
Categories: Uncategorised